Resources
Select a resource type from the headings below to view
All downloads are available publicly available at github.com
View on GitHub
Book a product tour
Schedule a tour of the 2Pint platform with one of our experts -
Book Now
Come on over and have a pint (or two!)
Feel free to contact us regarding our products, things we do, things we don't do, techie questions, non-techie audio stuff, farming, beers, article ideas, and anything else related to life or this site.

If you are experiencing technical difficulty with an installed product, or have questions about how to use our stuff in general, please refer to our support section as you might find the answers to your questions there.

We follow up within 24-hours on weekdays. At the weekends not so much!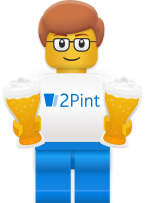 Ask us anything!
Feel free to contact us regarding our products or anything else 2Pint related. We will attempt to answer your question no matter how odd it may seem to you :) If you require support, please head over to our
Support page